New OPO tool saves time and improves efficiency of administrative enquiries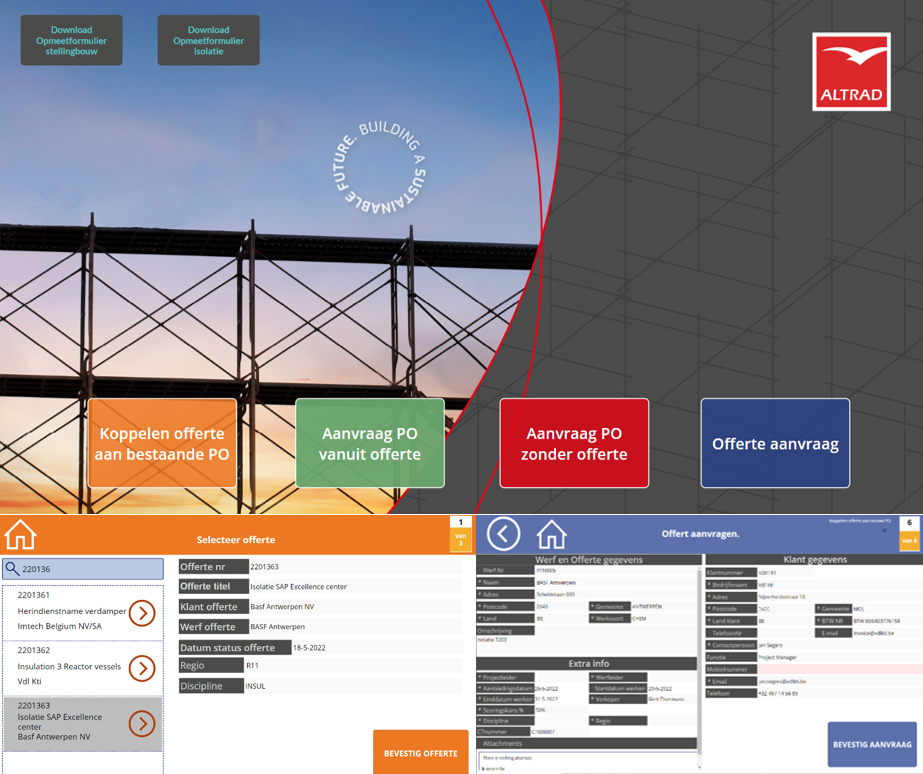 To help its clients and employees grow, ALTRAD SERVICES Benelux focuses on innovation and digitalisation. This new tool is an excellent example of a development that improves business efficiency and saves time.
Fewer mistakes, greater ease of use
Producing accurate quotations is no easy feat. Especially if several employees from different departments each have to play their part. In an effort to simplify, speed up and optimise requests for quotations and project order requests, Head of Calculation Insulation Wannes Raats developed a digital tool. "Whenever site and project managers needed a quotation or project order, they used to provide the information in an Excel file, frequently sending extra input via e-mail later on. This was a laborious and time-consuming procedure, and a source of error. The new application stops the 'ping-pong' between colleagues and saves time and frustration."
Try-out in Wijnegem and Verrebroek
As of now, site and project managers enter all relevant data in the quotation tool with a few mouse clicks. They first make a choice from the menu:
Linking a quotation to an existing PO
Requesting a PO based on a quotation
Requesting a PO without a quotation
Requesting a quotation
In the menu, they can look up, select, add, change, and confirm information. Mandatory fields are no longer overlooked, and most of the information is retrieved automatically from the database. As such, the colleagues from the calculation department receive the complete and correct data, in a consistent manner and in the correct location.
"About 40 people, including 15 intensive users, will be working with the tool," says Wannes. "Initially only within the calculation department in Wijnegem and Verrebroek. After a test period and some fine-tuning, we will roll out the tool in other branches and departments."
The quotation tool is also an asset for the clients of ALTRAD SERVICES Benelux. Indeed, they get their quotations faster and may rest assured that the information is 100% correct.