Concrete inspection at 213 metres height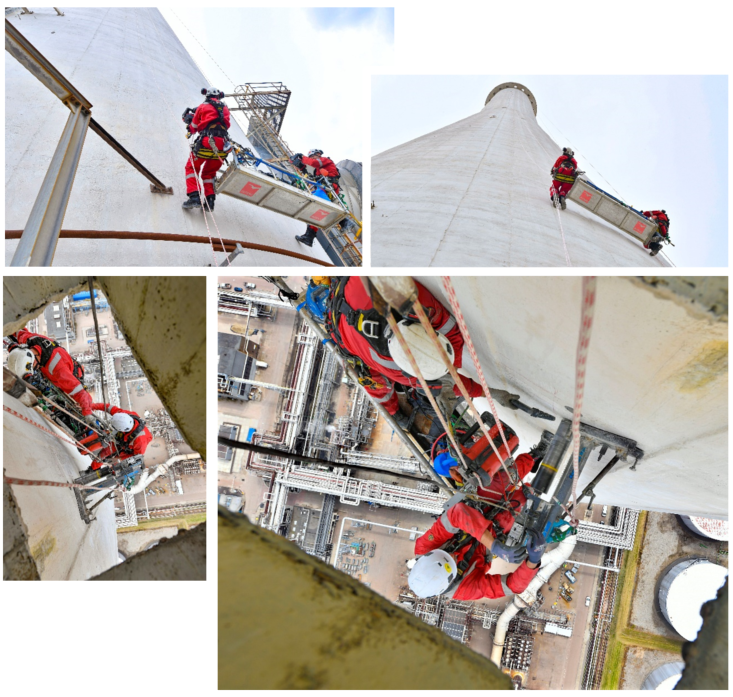 How do you inspect a chimney that is 213 metres high? The owner, a petrochemical company in the Rotterdam harbour, asked for help from many specialists. In the end, our industrial rope techniques proved to be the solution: safe, suitable for places that are difficult to reach and affordable.
Factory chimney in Rotterdam
ALTRAD SERVICES Benelux's Rope Access technicians carried out a very special assignment in Rotterdam's Botlek port and industrial zone at the end of 2021. They took cover measurements and samples from an old factory chimney to examine the condition of the concrete and reinforcement. In the first phase, our technicians inspected the tower from the north side and from the landings. Subsequent visits covered the rest of the chimney. In order to avoid risks to possible spectators, it was a conscious decision to carry out this job at the weekend.
Wind as the greatest enemy
"The biggest challenge at such a height is the wind," explains Pieter Jan Lindhout, project manager for ALTRAD SERVICES Benelux. "Because at 200 metres it can easily be 2 beauforts stronger than at ground level. We therefore check and double-check the weather forecasts beforehand, and always keep an eye on the hand wind gauge during the work."
Did-you-know:

0.5 kilometres: that is how much rope we used to take measurements and take samples.
7 minutes: that is the time it takes to travel in the lift from the ground floor to the highest point of the chimney. Due to Covid-19, only one person could travel in each lift.
213 metres: that's how high the chimney is, twice as high as the Atomium or 30 metres higher than the Euromast.
Not an easy job
Because ALTRAD SERVICES Benelux was involved in the discussions early on, it was possible to accurately assess the potential complications of this project. The expertise of our Rope Access team therefore showed in, among other things, the use of special rope access material. Regular lines up to approximately 100m in length were not sufficient to reach the height, nor were other standard aids.
Pieter Jan Lindhout: "The greater the safety risks, the more important communication and cooperation. With the company's concrete specialist and technical department, we have strong partners. I am pleased that we can work together on this."
Rope access, an industrial rope technique, is a safe and economical way to carry out work at height and in places that are difficult to reach: ALTRAD SERVICES Benelux has more than 17 years of experience. High altitude or complex project? Our rope engineers know their way around.
Request your quote for rope access.