5 times sustainable mobility at ALTRAD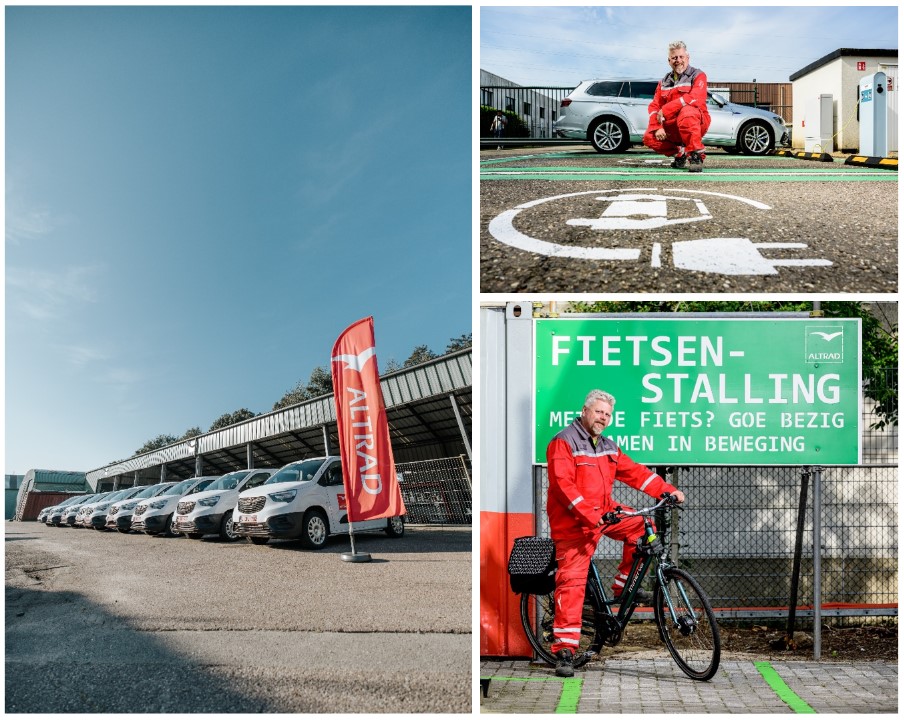 Our roads are getting busier and busier and that has an impact on our safety, health and on the quality of our environment. However, mobility makes our economy run, so we cannot do without it. Yet we can influence the way we travel by taking initiatives around sustainable mobility.
What is our ambition?
Corporate Social Responsibility is a verb at ALTRAD SERVICES Benelux by actively helping to reduce CO2 emissions and also reduce the risk of accidents. We also make sure our employees get to their destinations faster and more energetically. And we encourage people to cycle more often.
1. Bicycle lease
With high fuel prices, leaving your car at the side of the road more often is not only good for your wallet. It also reduces the amount of pollutants in the air. And those who cycle regularly feel better and fitter. Moreover, the mileage reimbursement for commuting by bicycle is much higher than the reimbursement for mileage by car.
Our employees with a Belgian contract, who meet the conditions, can lease a bicycle (up to 5,000 euros) through ALTRAD. They can choose from city, racing, trekking, cargo and folding bikes, electric bikes up to 25 kilometers per hour and speed pedelecs.
2. Advantageous group purchase for bicycles
Employees in Belgium who are not eligible for bicycle leasing or family members of employees can take advantage of an advantageous group purchase.
3. Electric and hybrid company cars.
20% less CO2 emissions by 2024. That's what we want to achieve with our fleet. How will we achieve this?
For passenger cars we are switching from gasoline, diesel and CNG cars to electric and hybrid cars. We have already provided charging stations in Wijnegem and Verrebroek. In our branches in Manage and Ghent these charging stations will soon follow.
For our light commercial vehicles, we opted for Opel Combos. Not electric - for that we need to thoroughly expand the fleet of charging stations first. But much more economical than our previous vans.
We aim to order only electric and hybrid passenger vehicles from mid-2023 (subject to availability).
4. Carpool vans
ALTRAD SERVICES Benelux discourages individual transportation wherever possible. To promote carpooling, we set up our own carpool vans for employees who live near each other.
5. Electric shared bicycles in Antwerp
The Donkey Rebublic e-bikes, which have recently been installed in the province of Antwerp, are ideal for those who live in the city of Antwerp and have to go to a pick-up point for a work site. In the fall of 2022, we will be the 1st company to test out the system. Easy to use, easy to go and above all a lot greener than the car.